The keto diet and
Twisted Foods Keto
Meal Delivery Service
Food is medicine and fuel for our bodies. Because of that belief, we're on a mission to show the world how keto meal delivery services can provide healthy, nutritious foods that are not just delicious, but also promote physical and mental well-being.
This is why
we're great (if we say so ourselves)
Support and encouragement are so very important in taking on any change, and our meal prep clients work with a health coach, free of charge.
We make it very easy to receive your keto meal delivery services. Choose from either direct shipment to your home, pick-up in either or Jonesboro, AR or Nashville, TN locations or dine-in at the restaurant.
"Great! What are the Keto Meal Delivery Service Options Available to Me?"
We're so glad you asked!
Without further ado, here they are:
First, Meal Prep offers unlimited customization, so that you can get exactly what you want and your body needs at the intervals that work best for you. Not only that, but you'll also have access to a health coach, free of charge, when you choose this option.
To begin with, you and your health coach will get to know each other, while you talk about your goals, your eating habits, and your body type, all to weave together a healthy balanced plan specifically for you. Secondly, you'll figure out the details, such as how many meals you'd like to receive per week.
And last, but not least, you'll decide whether you'd like them shipped to you, or if you'd prefer to pick them up in one of our convenient locations in Jonesboro, AR or Nashville, TN. You can even dine-in at our two locations (we love that option!)
Because we like to make things easy for everyone, we don't do contracts and we don't lock you into your meal delivery choices. If you've got a taste for something that's not normally on your menu, just let your health coach know via email or Facebook Messenger! We'll rotate it in for you.
The Keto Meal Plan Offers
Convenience & Ease
When you select this option, your keto meal delivery services will be based on the keto diet. You choose how many meals (breakfast, lunch, dinner, snack) you'd like each week. Then, you pick whether you'd like it shipped or if you'll pick-up in-store. And that's it. You're now on your way to a keto lifestyle!
Oh, and the best part of both meal plan and meal prep? No cooking or cleaning! That's right; all of our delicious meals are simply heat, eat and enjoy!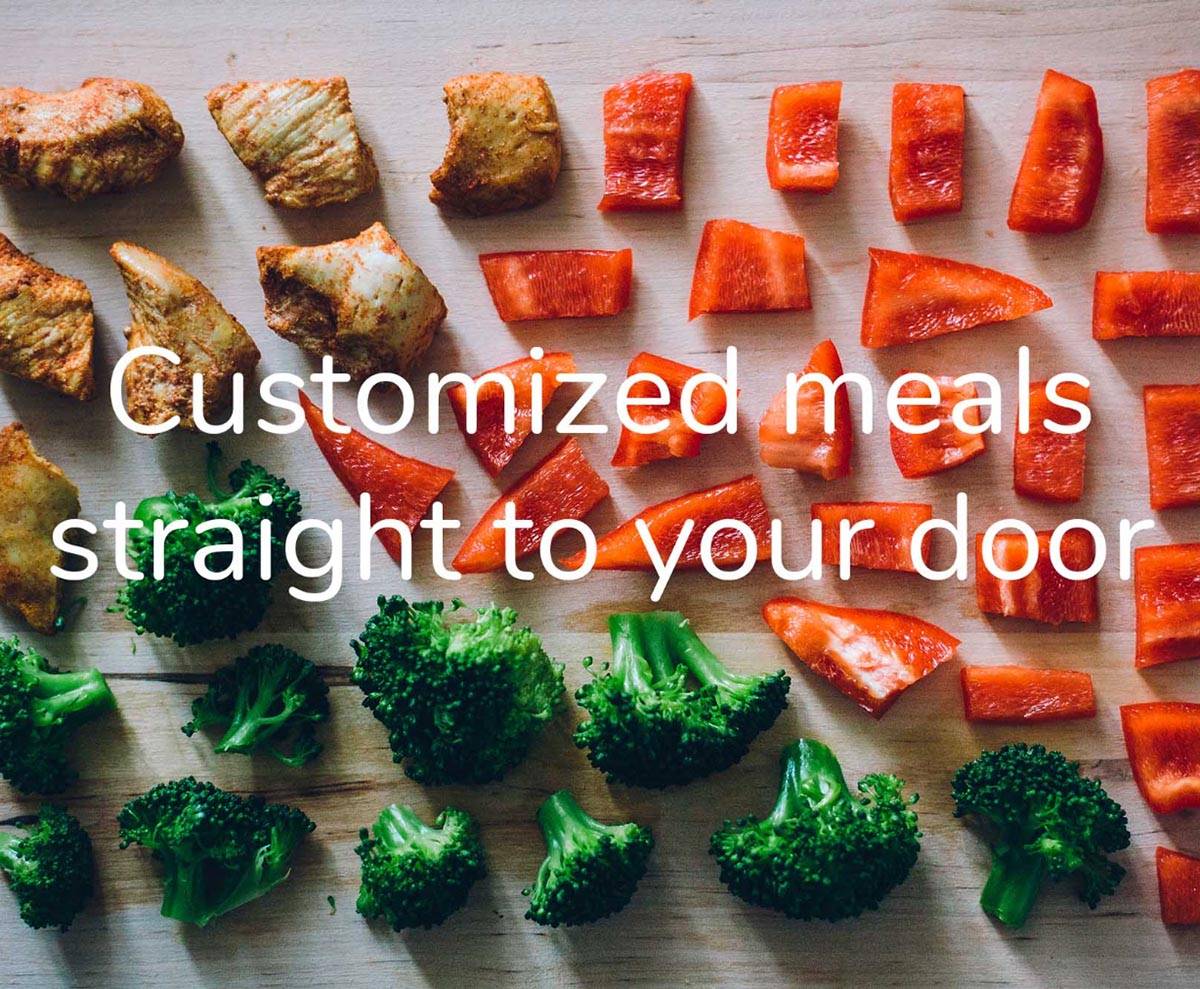 In-Store Options
As we keep our fridge stocked with healthy, yummy meals, we've created a few weekly options that we think you're going to love.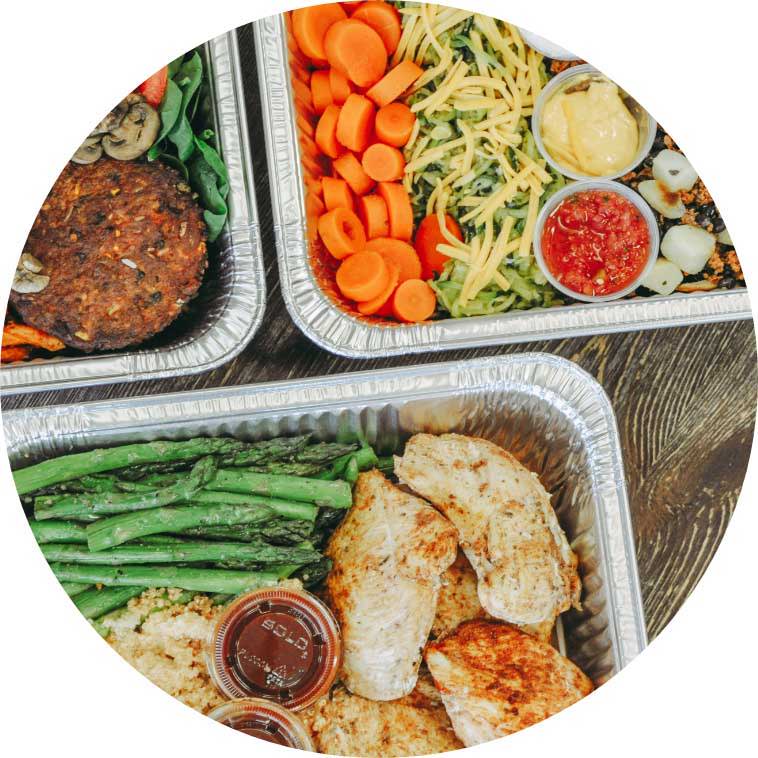 Weekend Meal Deals
We know you love value. This is great because we take the legwork out of making decisions. We pick your meals and we give you a special price.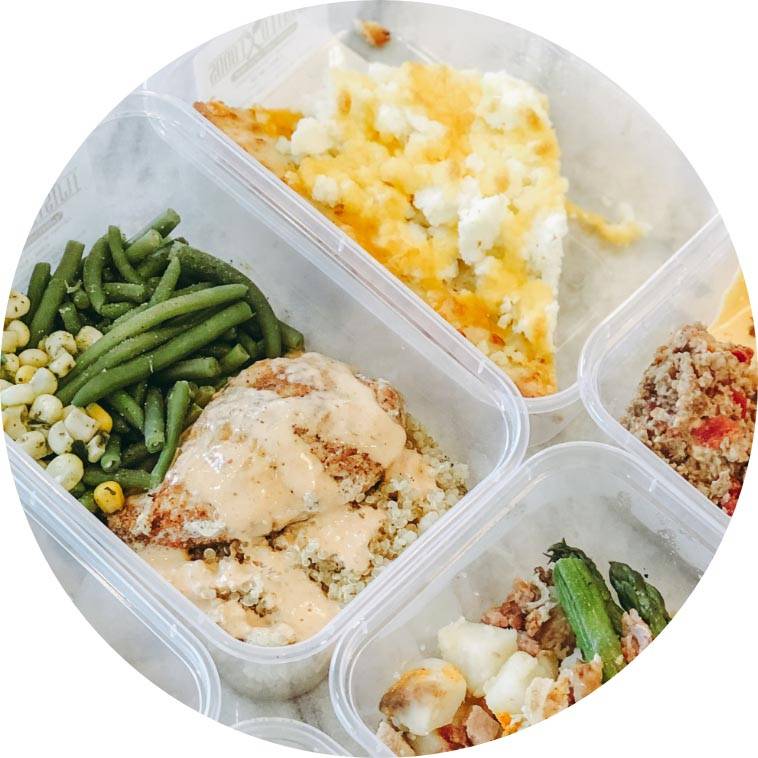 BOGO Tuesdays
"Buy One Get One" FREE!
Don't forget to bring a friend, each and every Tuesday!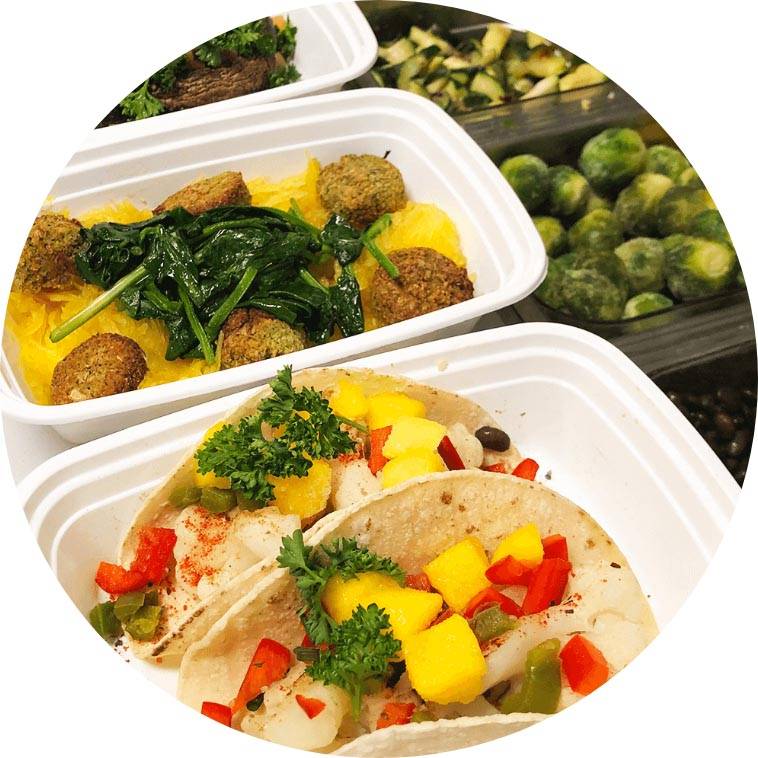 BYOB Bar
"Build Your Own Box" with whatever protein, carbs, and veggies that look good to you. Create your own culinary masterpiece. For dine-in or to-go.
So...
What is the Keto Diet?
The keto diet drastically reduces your intake of carbohydrates and replaces them with fat. The science behind the diet tells us that act puts your body into a state of "ketosis". This means that the body is using ketones, which are the byproducts of fat breakdown produced by your liver and uses them as the alternate energy source.
Effectively, this means that your body stops burning carbohydrates for fuel and begins burning your stores of fat. Additionally, the state of ketosis also lowers your blood sugar and insulin levels. For many, this results in easy and rapid weight loss.
Types of Keto Diets
Historically, the macronutrient ratio on the keto diet has been 75% fat, 20% protein and 5% carbs. In recent years, however, several variations of the traditional keto diet have emerged. While many keto meal delivery services are offering keto options, be sure they are offering the right keto diet for you. Some of the specific keto diets include: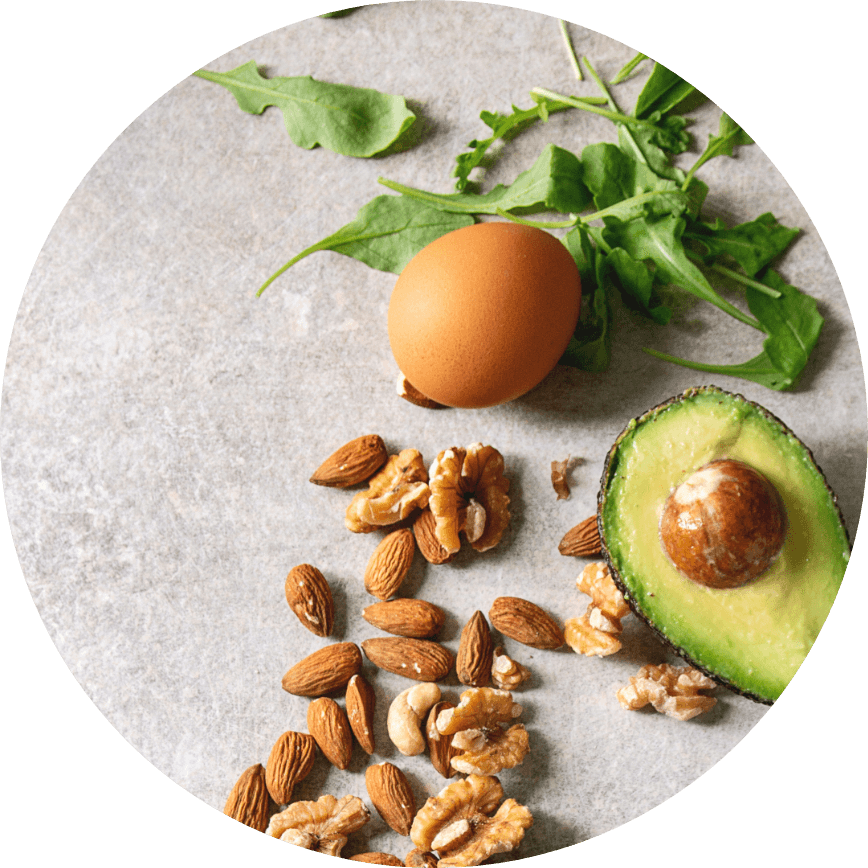 Targeted Ketogenic Diet
This variation allows the addition of carbs around workouts. Again, this form of the keto diet is used primarily by athletes and is not as well documented as other variations.
High Protein Ketogenic Diet
This form of the keto diet changes the standard macronutrient ratio to 60% fat, 35% protein, and 5% carbs. This is a good option for those either showing a protein deficiency or who may be at risk of such a deficiency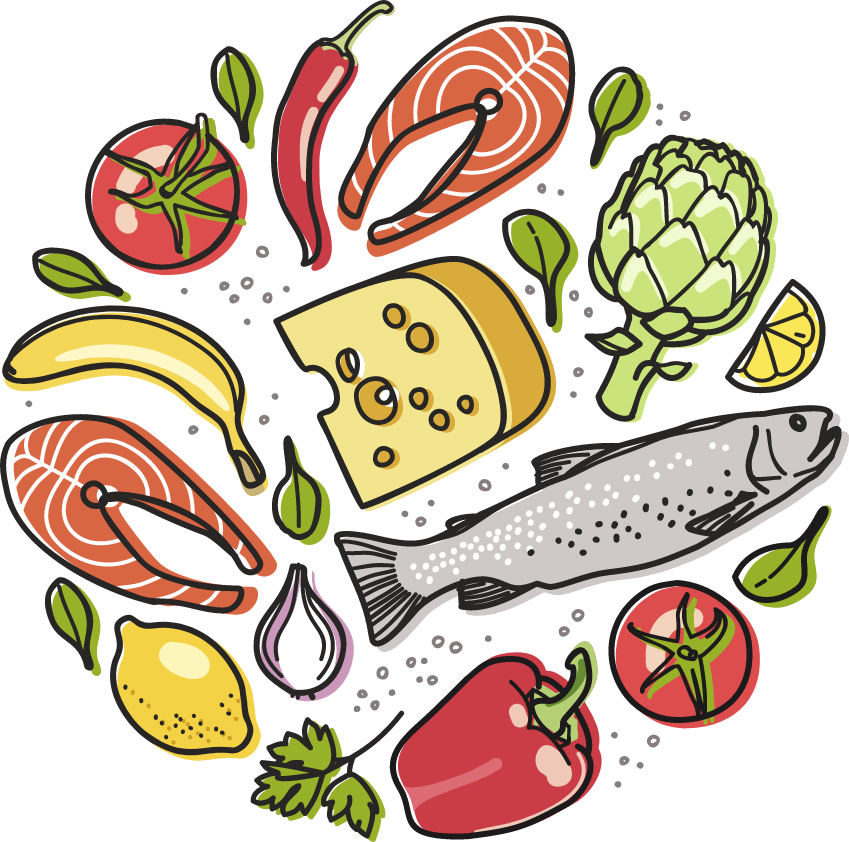 On the Keto Diet
Will I Lose Weight?
We believe food is medicine and we also believe if you put the right medicine in your body, it will nourish you, sustain you, and keep you vibrant and healthy. In addition, we believe that it shouldn't be hard to eat well. So that's why all of our healthy prepared meals to lose weight are simply heat-and-eat, using your microwave, oven or stovetop. We do this because we know that not everyone has the time or skill level to prepare multiple meals every day.
We also think everyone deserves knowledgeable support and encouragement. Therefore, each of our clients is paired with a health coach, free of charge. Because you deserve expert advice helping you to plan and then maintain your eating style, along with lots of support and encouragement.
One of the best features of any of the Twisted Foods diets is that they are endlessly customizable. That means that, for us, everything is about our clients' and customers' needs and wishes. For example, want to sub chicken for steak next week? You got it! Similarly, if you're having a craving for sweet fruits, we've got you covered. To sum it up, we don't do cookie-cutter diets here.
And here's the other great thing we offer that no one else does: 3 different options on how to get your meals!
Firstly, you can receive your healthy prepared meals to lose weight straight to your home. Secondly, you may pick them up at one of our locations in Jonesboro, AR or Nashville, TN or thirdly (and this usually our favorite!) dine in-house with us. And the absolute best part? No cooking involved! That's right, we do all the hard work for you, so all you have to do is heat,
eat and enjoy!
Health Benefits of the Keto Diet
There are many! Below are some of the most well-known and/or popular among its many enthusiasts:
Improved Memory
Brain Functionality
Recovered Quality of Life
Unexpected Side Effects
Please don't be alarmed if your transition to the keto diet is not completely smooth. This is normal!
Some of the symptoms you may experience include:
Elevated Cholesterol - this may be temporary, but it's
important to monitor.
Keto Flu - so common it has its own name! It should also pass within a few days. You may experience
- Fatigue
- Headache
- Irritability
- Brain Fog
- Sugar Cravings
Constipation - this is from the restriction in carbs. Increase water intake and again, it should resolve in a few days
Adaptation Tips
Yes, we keep saying that everything will resolve in a few days. But how to get through those few days? Here are a few pointers:
Drink plenty of water
Consume more salt
Take potassium & magnesium
Don't overdo it on exercise
Proteins
Chicken
Turkey
Fish
Shellfish
Beef
Pork
Tofu
Carbohydrates
Limited Whole Grains and Vegetables
Third, Enjoy Fats
Butter
Cheese
Olive Oil
Nuts
Avocado
Recommended For
Weight Loss & Lean Muscle
The keto diet is perfect for anyone who wants to shed some extra pounds or is looking for an alternative to our bodybuilding diet. Because it has shown some promise in cognitive issues, it may also help individuals with memory issues. Also, there has been some evidence of relief from migraine headaches. One caveat; this diet is typically not ideal for those looking to abstain from meat consumption.
Ready to get started? Great, because we are, too!
Give us a call today at 870-938-1319 or apply online.

We can't wait to meet you!